Image

Portrait image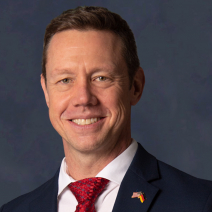 Col. Matthew V. Sousa, U.S. Army
Chief of Staff
George C. Marshall European Center for Security Studies
COL Matt Sousa is a Foreign Area Officer in the U.S. Army, specializing in Sub-Saharan Africa. He served as the Deputy Director of Security Studies at GCMC from 2019-2021. Before coming to the Marshall Center, he served as the Senior Defense Official and Defense Attaché in Angola from 2014-2019. Prior to that, he was the U.S. Army War College Fellow at the Italian Center for High Defense Studies in Rome, Italy and the Chief of Security Cooperation Programs at U.S. Army Africa in Vicenza, Italy.

He served as the Senior Defense Official and Defense Attaché responsible for all U.S. military engagement in Senegal, Cape Verde, The Gambia, and Guinea-Bissau from 2009-2012. Before that, he was the U.S. Defense and Army Attaché accredited to Cameroon and Equatorial Guinea from 2006-2009. Previously, he was an Assistant Professor in the Department of Social Sciences at the U.S. Military Academy, where he taught Politics and Development of Sub-Saharan Africa and Comparative International Politics, and guest-lectured at Harvard University and universities in the Netherlands and Nigeria. He has also co-authored a book, Oil and Terrorism in the New Gulf: Framing U.S. Energy and Security Policy in the Gulf of Guinea.

COL Sousa has lived, worked, and traveled in more than thirty African countries, is fluent in French and Portuguese, and conversational in German, Italian, and Spanish. He received his graduate degree in Public Administration and International Development from Harvard University, and his undergraduate degree in Human/ Regional Geography from West Point. Additionally, he attended the International Peace Support Operations Course at the KAIPTC in Ghana and the Managing Peace Processes Course at the UN's Institute for Conflict Resolution in Northern Ireland.
Contact
gcmcpublicaffairs [at] marshallcenter.org
Downloads
Sousa, Matthew V. Biography