Image

DOD photo by Karl-Heinz Wedhorn
Portrait image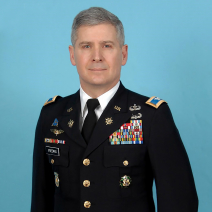 Col. Jonathan E. Freeman, U.S. Army
Director
Plans & Strategy Directorate
Colonel Jonathan E. Freeman is the Director of Plans and Strategy/Military Commander for the George C. Marshall European Center for Security Studies.  In this capacity, COL Freeman leads the Marshall Center's planning efforts, its strategy development and implementation, and coordinates senior U.S. stakeholder support and resourcing.  As Military Commander, he provides leadership and mentoring to the Center's Joint Service Members.
A career Military Intelligence officer, Colonel Freeman's first served with the 66th MI Brigade, as a Platoon Leader, Operations Officer and the first SETAF Intelligence Support Element Chief in Augsburg, Germany, and Vicenza, Italy.  Colonel Freeman then served in the 82nd Airborne Division as Division Collection Manager, Assistant Brigade S2 and Infantry HHC Company Commander.  While at Fort Bragg, Colonel Freeman deployed to Abkhazia as a Military Observer for UNOMIG.  Nominated for a program at NSA, Colonel Freeman served in sensitive leadership positions culminating in his selection as the first Chief CSG JSOC, and deployments to lead SIGINT support to special operations in OEF and OIF.  Colonel Freeman attended the Italian Joint Command and Staff College, graduating with distinction in 2004.  He then served as Chief of Intelligence for the Joint IED Defeat Task Force, as Battalion S3 for the 742nd MI Battalion, and in a joint duty assignment at the US Embassy in Rome, Italy.  Colonel Freeman commanded the 2nd MI Battalion in Wiesbaden, Germany from 2009 to 2011, deploying with a battalion task force to Iraq in support of USF-I OIF and OND HUMINT requirements, and served as Deputy Commander of the 66th MI Brigade upon redeployment.  From July 2012 to June 2013, Colonel Freeman completed a cyber-focused Senior Service College Fellowship at NSA, before assuming command of the 650th MI Group and Allied Command Counterintelligence (ACCI) in July 2013 in SHAPE, Belgium.  Colonel Freeman deployed to Afghanistan in June 2016 as the Director of Intelligence/CJ2 for SOJTF-A/NSOCC-A, followed by service as the Director of Army Cryptologic Operations from July 2017 to July 2019.  In this capacity, Colonel Freeman led the development and implementation of the Army SIGINT Strategy, and served as the Army's senior liaison to NSA. 
Colonel Freeman's awards and decorations include the Defense Superior Service Medal, the Bronze Star Medal (1st OLC), the National Intelligence Meritorious Unit Citation, the Army Staff Badge, the Senior Parachutist Badge and Poland's Star of Afghanistan Medal.
Colonel Freeman received his BA in Political Science from Trinity University, San Antonio, Texas, and holds two advanced degrees: a Master of Arts in Management from Webster University, and a Master in Strategic Studies from the Italian Center for Higher Defense Studies, the University of Milan and the LUISS "Guido Carli" University in Rome.
Contact
gcmcpsd [at] marshallcenter.org