Image

George C. Marshall European Center for Security Studies
Portrait image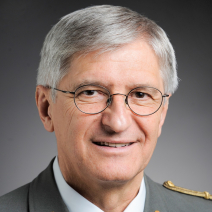 Col. (AUT) Günther Johann Rozenits, Austrian Armed Forces
Military Professor
Regional Security Studies
Areas of Expertise
EU-NATO Relations and Transatlantic Relations
EU Common Security and Defense Policy
EU and NATO capability development, research and technology, defense industry
Central European and Southeast European Security/Western Balkans Issues
Academic Degrees
Magister of "Philosophy"/Master of Philosophy, University of Vienna
Magister of "National Defense and Senior Leadership," University of Vienna
NATO Defense College (Senior Course 2007)
Austrian General Staff Course (3 years)
Austrian Military Academy (3 years)
Col. Rozenits joined the George C. Marshall Center in November 2018 as a Military Professor of Transatlantic Security Issues and Central European and Southeast European Security and Western Balkans Issues. He serves as the Deputy Course Director of the Seminar on Regional Security and Deputy Director of the Southeast European Forum.
Before joining the Marshall Center, Col. Rozenits worked as an expert in the Austrian Ministry of Defense on EU security and defense policy and EU-NATO cooperation. He served as the Austrian representative at the European Defense Agency and at the NATO headquarters of the Conference of National Armaments Directors (2013-2017).
In 2007 and 2008, Col. Rozenits was on duty in Bosnia and Hercegovina at the EUFOR ALTHEA headquarters, responsible for freedom of movement, storage of weapons, and ammunition and mine clearance.
As an Austrian general staff officer, Col. Rozenits has been with the Austrian Ministry of Defense for 45 years, as deputy director of the Austrian NCO Academy and in all federal states in functions such as G3, chief of staff, deputy commander and in 2000 as military commander of Upper Austria. He previously served as a platoon commander, company commander, and staff officer at battalion and brigade level.
Col. Rozenits is also a trained technician and journalist and has been director of the Austrian Peace Academy, an Austrian NGO, for almost 20 years. For ten years, he was President of the 40,000 Upper Austrian Veterans Association.
Col. Rozenits was recognized by the Croatian community for his master's thesis on "Minority Policy in Burgenland from 1921 to 1991" at the University of Vienna in 1994.
Downloads
Günther Johann Rozenits Biography