Image

DoD Photo
Portrait image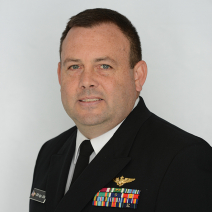 CDR John "Eric" Ager
Professor
Program on Applied Security Studies (PASS)
CDR Eric Ager is a Professor of National Security Studies and joined the George C. Marshall Center in August 2018. He graduated from the U.S. Naval Academy (Annapolis) and received his commission in May 1996. Following commissioning, CDR Ager attended flight school in Pensacola, Florida and was designated as a naval aviator wings in March 1997.
Following flight school, CDR Ager was assigned to HC-5 in Guam flying the H-46 Sea Knight helicopter and deployed throughout the Pacific and Arabian Gulf. In 2002, he was selected as an Olmsted Scholar and following a year of language training, studied for two years in Ankara, Turkey. Other tours included service aboard the USS HARRY S TRUMAN as a Tactical Action Officer, flying the H-60S Knighthawk helicopter from Andersen Air Force Base in Guam, deploying aboard the USS ESSEX in Japan, and three years as the OPNAV European Desk Officer in the Pentagon. Most recently he served as the U.S. Naval Attaché in Ankara, Turkey.
CDR Ager holds a Master's degree in International Relations from Atilim University in Ankara, Turkey and a Bachelor's of Science Degree in Political Science from the U.S. Naval Academy.
CDR Ager arrived at the Marshall Center in July of 2018 and departed in July of 2021.
Contact
gcmcpublicaffairs [at] marshallcenter.org