Image

DOD graphic
Seminar on Regional Security (SRS)
April 20−May 7, 2021 / Course language: English & Russian
Introduction
This four week course focuses on European regional security challenges that are driving European political agendas and public discussion. Central to this course is the examination of multiple regional conflicts along European borders, past and ongoing, which will allow participants to enhance their ability to analyze and propose resolution.
The regional focus of this course acknowledges that too often local and national conflicts pose considerable threats to neighboring states and possibly to an entire region. Given these considerations, conflict management and resolution require many partners including regional and international help. Conflict management and resolution of regional crisis is not complete without addressing the interwoven dimensions of civil society and gender.
Course Description
The Seminar on Regional Security (SRS) is broken down into four modules, each building upon the lessons learned in the previous module.
During the first module, Marshall Center faculty and guest speakers provide a foundation of common understanding required for the rest of the course. Lecture and discussion topics provide a framework of definitions and concepts of security, regional security, conflict, and crisis management, as well as associated regional implications. In addition, the seminar working groups will be tasked to do some research on selected regional and international conflict management organizations and mechanisms, including the Organization for Security and Cooperation in Europe (OSCE), the European Union, African Union, the United Nations, and contributions from civil society and to present their research results to the SRS audience.
In the second module, participants develop insights into past and/or ongoing regional conflicts such as Bosnia-Herzegovina, Ukraine, Syria, and Mali. The seminar working groups with the help of subject matter experts will be tasked to do some research on the selected case studies, referring to national, regional and international actors, their aims and objectives and the current status of conflict management efforts. These insights are then transferred into lessons learned for management of future crises.
In the third module participants improve their negotiation skills and practice them in a simulated Track 1 Peace Conference, built on a regional crisis scenario. During this particular module, SRS participants will apply everything they learned during the course. This particular module is mediated by an experienced ambassador or representative of an international or regional organization with considerable real life experience in conflict management processes.
Previous guest speakers included: Geoffrey Pyatt, U.S. Ambassador to Ukraine; Mary Beth Leonard, Permanent US Representative to the African Union, Dr. Antonio Missiroli, Director of the European Union Institute for Security Studies; Russia GenLt (retired) Evgeniy Buzhinsky, Chairman of the Executive Board of the PIR Center; Ihor Dolhov, Deputy Defense Minister, Ukraine; Georghe Balan, Moldovan Vice Prime Minister for Reintegration; Wolf Dietrich Heim, OSCE Special Advisor to the Chairperson-in-office; James Pettit, U.S. Ambassador to Moldova; Herbert Salber, European Union Special Representative to the Southern Caucasus and Georgia; Knut Abraham, Head of the Division for South East Europe, the Caucasus, and Central Asia in the Federal Chancellery; Martin Schelleis, Lieutenant General and Chief of German Joint Support Service; and Dr. Marian Staszewski, Deputy Head of Mission, Office of the Special Representative of the OSCE Chairperson-in-Office for peace talks on the conflict in eastern Ukraine and Fred Tanner, Senior Advisor to the OSCE Secretary and former Director of the GCSP in Geneva.
Finally, in module four,  for the second consecutive time in 2020 the SRS will be complemented by a 4-day field study trip to Vienna, providing participants with the opportunity to receive some firsthand information from OSCE-practitioners in the field and representatives of international organizations within the United Nations, i.e. the International Atomic Energy Agency and the Comprehensive Test Ban Treaty Organization.
Seminar Participant Requirements
SRS aims at intermediate and senior level military and civilian government officials, as well as NGO representatives, who have:
A relevant background in conflict management;

Will be deployed to a crisis region;

Have attended a course at the GCMC, already (preferably the PASS);

And/or consult (or advise) their institutions in matters of crisis analysis and conflict management.
Participants should have a clear professional interest in and background knowledge of regional or transnational and international crisis management. This course strives for a balanced gender participation and encourages applications from women.
The success of this course depends on participants who are prepared and willing to describe and explain how international assistance is perceived in their countries.
Course Objectives
Course participants will be enabled to:
Analyze current security crises.

Understand their impact on regional security

Identify patterns of conflict management

Consider the gender dimensions of conflict & conflict management

Practice negotiation techniques

Join a network of over 300 former SRS participants – reaching from the US and Ireland to South Korea, from the Baltic States to Turkey.
Information on Previous SRS Courses
Course Details
Location
George C. Marshall European Center for Security Studies
Garmisch-Partenkirchen, Germany
Course Director
Portrait image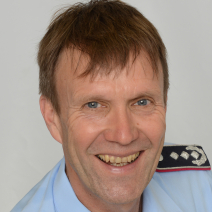 Col. (GS) Stefan C.P. Hinz, Dipl.-Kfm., German Air Force
Program Director Seminar on Regional Security
Course Language
English and Russian