Image

Seminar on Regional Security (SRS)
Introduction
This three-week online course focuses on regional security challenges that are driving political agendas and public discussion. Central to this course is the examination of selected regional security challenges at the European periphery, past and ongoing, which will allow participants to analyze parameters of regional security in a holistic (local, regional and global) approach.
The regional focus of this course acknowledges that too often local and national conflicts pose considerable threats to neighboring states and in many cases to an entire region. Given these considerations, SRS 2021 addresses current and evolving regional security issues with analytical and policy-oriented approaches. These approaches are not complete without addressing the interwoven dimensions of civil society and gender.
Course Description
The Seminar on Regional Security (SRS) is broken down into three modules, each building upon the lessons learned in the previous module.
During the first module, Marshall Center faculty and guest speakers provide a foundation of a common understanding and framework required for the rest of the course. Lecture and discussion topics will focus on the renewed Great Power Competition (not disregarding also some major regional powers), contemporary forms of warfare (hybrid, irregular) and elements of security architectures, prominently the UN, NATO, EU, OSCE and AU.
In addition, seminar-working groups will discuss this framework more in depth.
In the second module, participants develop insights into five selected smaller and bigger regions:
Western Balkans, Baltics, Black Sea, Caucasus and Middle East and North Africa (MENA).
Seminar working groups will examine the key role of institutions in different regions (one region per seminar).
The third module starts with lectures on strategy and negotiations; seminar sessions will discuss peace treaties of the past and their assessment from today's perspective. Two case studies will be the core of module three: Syria and Ukraine.
Findings from the Case Studies will be presented to finally develop policy recommendations and lessons learned.
Seminar Participant Requirements
SRS aims at intermediate and senior level military and civilian government officials, as well as NGO representatives, who have:
A relevant background in contemporary regional security challenges;

Will be deployed to a crisis region;

Have attended a course at the GCMC, already (preferably the PASS);

And/or consult (or advise) their institutions in matters of crisis analysis and conflict management.
Participants should have a clear professional interest in and background knowledge of regional or transnational and international crisis management. This course strives for a balanced gender participation and encourages applications from women.
The success of this course depends on participants who are prepared and willing to describe and explain how international influence and assistance is perceived in their countries.
Course Objectives
Course participants will be enabled to:
Enhance their professional development

Analyze current and evolving regional security challenges

Understand their impact on local, regional and global security

Address regional security issues with analytical and policy-oriented approaches

Consider the gender dimensions of conflict & conflict management

Join a network of over 350 former SRS participants – reaching from the US and Ireland to South Korea, from the Baltic States to Turkey.
Course Details
Location
George C. Marshall European Center for Security Studies
Garmisch-Partenkirchen, Germany
Course Director
Portrait image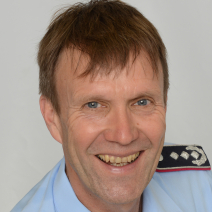 Colonel (GS) Stefan C.P. Hinz, German Air Force
Program Director, Seminar on Regional Security