Image

DOD graphic by Zachary Sherman
European Security Seminar–South (ESS-S)
Background
The European Security Seminar-South is designed to examine the challenges to Europe emanating from the Middle East and North Africa (MENA) and to develop appropriate responses. Central to this one-week program is a holistic security approach. In today's globalized world, evolving security threats in countries on Europe`s wider Southern Flank most likely have implications for the entire Mediterranean and European regions, which deeply influence national governments, as well as the lives of individuals and communities alike – refugee migration and violent extremism being just two security-issue examples. Hence, enduring solutions to security challenges can only be found and implemented in partnerships, and multilateral and whole-of-government approaches are essential to address these multi-faceted problems.
It is from this premise that  ESS-S will explore security challenges related to climate change in the steadily evolving post-Arab-Uprising era. It will build on previous ESS-S courses that addressed the dissolution of order, crisis response/prevention, demographic change in the MENA region, and changes in regional orders as they have been unfolding most recently. The steadily declining security situation, caused by civil war, failed states, fractured societies, refugees and displaced persons, rampant poverty, violent extremism and organized crime, has had considerable regional implications. Whether to protect national security or to project influence, a growing number of regional powers are leaving footprints in the region – most importantly, including the Gulf countries, Iran and Turkey. However, the Russia, China, U.S. and EU presences in the region are also impacted. The pursuit of geopolitical strategic interests by all means, including proxy wars, are ever more acutely felt on this broader basis.
Expected Accomplishments
This seminar will be conducted by subject-matter experts from the George C. Marshall Center, along with adjunct professors and guest lecturers from national and international European and Euro-Atlantic security organizations, as well as from relevant private sector actors. It will invite representatives from the EU's Mediterranean Union and NATO PFP, MD and ICI, African countries (Tunisia, Mali, Egypt, Algeria, Morocco, and Libya), Jordan, Iraq, Lebanon, Palestinian Authorities, Israel, and Southern EU/NATO members (Cyprus, Malta, Italy, Spain, Greece, Portugal, France, Turkey). 
The seminar is structured and designed in such a way to be able to capture the insights from these representatives as to how the EU and NATO can formulate new strategies towards the Southern Flank while minimizing negative spillovers and "collateral damage" to NATO and EU neighbors and partners in the region.
Discussion Topics
How do the effects of climate change affect the recent evolution of MENA regional order? How can their impacts on security be assessed, and what do they mean for the Mediterranean region and for Europe?
What are the implications for security partnerships, especially for the EU and NATO?
What needs to be done in order to achieve more stability in the region?
Indicators of Achievement
The principal indicator of achievement is that the ideas and recommendations from the seminar inform EU and NATO strategic thinking and the understanding of the new regional order and its impact. The secondary objective is the inclusion of socio-politico-economic contexts into a wider understanding of security. Lastly, the final objective is for George C. Marshall Center's role as a facilitator and honest broker within the Euro-Atlantic and Eurasian community of strategic experts and institutions. 
Main Activities
ESS-S addresses the topic by providing three different platforms for discussions, exchange of ideas, networking and strategy development. The first platform includes conference-style lectures, panels and plenary discussions; the second platform is an outcome-oriented and product-driven topical workshop format (topical workshops led by SMEs and supported by a rapporteur with input by SMEs and guest speakers); the third platform is a series of "night owl" sessions held in the style of a DV "fire side chat." The seminar is five days all inclusive (in on Monday, out on Friday), with four academic days, approximately sixty participants from mid-to-senior level positions, five working groups, and approximately ten guest speakers. The projected dates are 8-12 June 2019.
Course Details
Location
George C. Marshall Center-European Center for Security Studies
Garmisch-Partenkirchen, Germany
How to Register
For application and deadline information, contact Marshall Center Registrar, your ministry point of contact, or the U.S. or German Embassy in your capital city.
Course Director
Portrait image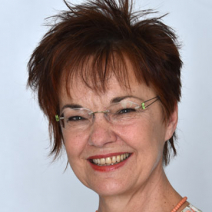 Dr. Petra Weyland
Middle Eastern Affairs